Features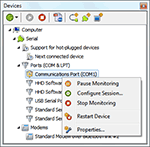 Serial Ports and Devices Monitoring
Free Serial Analyzer uses the special monitoring driver to let you monitor all serial devices connected to the computer either directly or via the external hubs. In addition, detailed information on device capabilities are displayed in Serial Device Information window.
You may also monitor the early device enumeration stages using product's unique "Next connected device" monitoring capability.
Restart any connected device or watch its properties using commands from the context menu.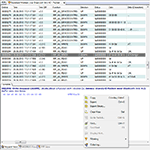 Displaying Monitored Packets in a Table
Packet View visualizer consists of two panes. Brief packet information is displayed in the upper pane. This includes packet capture time, packet type and size of the payload data. Lower pane displays the detailed information on a selected packet, using one of other supported data visualizers. That is, the same information is displayed, but only for a selected packet.
Visualizer contents may be copied into the Clipboard or exported in text or CSV format to an external file.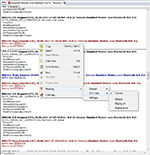 Displaying Monitored Packets in a Hex/ASCII View
This visualizer displays the most detailed information about each monitored packet. Packet capture time, time span from the last monitored packet, packet type and other information are diplayed in the header, while packet payload is displayed below. In Basic mode, payload is hidden, in Complete mode it is always visible. You may change the mode for the whole visualizer or for an individual packet.
The contents of the visualizer can be copied into the Clipboard or exported into the file in various formats. Use the mouse to select the portion to copy/export or leave the selection empty to copy the entire visualizer contents.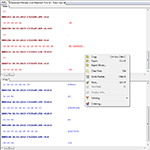 Displaying Read/Written Data in Separate Windows
This visualizer displays incoming data in an upper pane and outgoing data in a lower pane. You may copy data into the Clipboard or export into text file.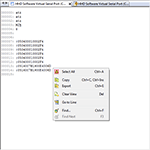 Displaying Monitored Data in a Serial Console
This visualizer is a useful tool for analysis of text-based protocol. It mimics the text console by displaying incoming and outgoing data as a single stream of text.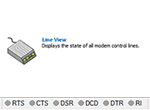 Displaying the Status of Serial (Modem) Control Lines
Provided the monitored application queries or controls the state of modem lines, this visualizer updates the states of standard serial line signals on the application status bar.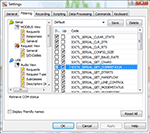 General Filtering Feature
Generic filtering function allows you to configure what packets are shown by visualizers. You may create a number of named schemes and switch between them at any time. You may even select different schemes for different visualizer windows.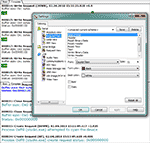 Custom Color Schemes for Monitored Packets
Free Serial Analyzer allows you to change the appearance of visual elements for monitored packets in the following data visualizers:
Request View (Serial, Bridge)
Data View
Console View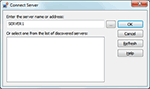 Remote monitoring allows you to connect to another computer and monitor serial devices connected to it. Device Monitoring Server must be installed and running on remote computer and you must have appropriate permissions to successfully connect and monitor.